2012
We started the Pecan Nut production stage in the province of Entre Ríos, implanting a mountain of certified genetics and varietals of high productive yield.
2016
We began our activities for the sale of agricultural work services for Nuez Pecan forests in the province of Entre Ríos, noting an excellent response and market acceptance.
2017
We scaled our service sales business unit and professionalized management through the implementation of Finnegans Agro agricultural management software, generating and preserving traceability data of work and inputs applied both in our own fields and for our clients' forests.
2018
We invest in mechanical harvesting equipment of the "inverted umbrella" type and soil harvesting equipment by suction, which gives us great speed, dynamism and flexibility at harvest time.
We scaled our production business unit by leasing selected forests.
2019
Pecan Services S.A.S exports its first containers to Hong Kong. We set ourselves the main objectives of continuing the development, integration and expansion of the services that we currently offer to producers at increasingly competitive costs, and with the enormous challenge of developing the industrialization and commercialization stage of the Pecan, to meet demand from new markets
2020
We incorporated new Weiss McNair brand harvesting equipment, for harvesting forests in full production.
2021
We continue our commercial growth, achieving the development of new customers and markets for the entire line of products. We export 35% of the Argentine production, consolidating ourselves as one of the main marketers in the country. We completed the first exports of peeled product of Brazilian origin destined for Europe.
We completed the first scale export of Pecan Partido from Argentina to the United States.
2022
Together with our Partner Aldea Don Julio, we inaugurated the largest peeling plant in Argentina.
We strengthened our business relationships with established customers and developed new markets for Pecan Peeled.
We expanded our operations in terms of volume in both Argentina and Brazil.
Our markets
We sell pecans produced in Argentina, Brazil and Mexico, thus we are able to provide our customers with fresh product, just harvested all year round.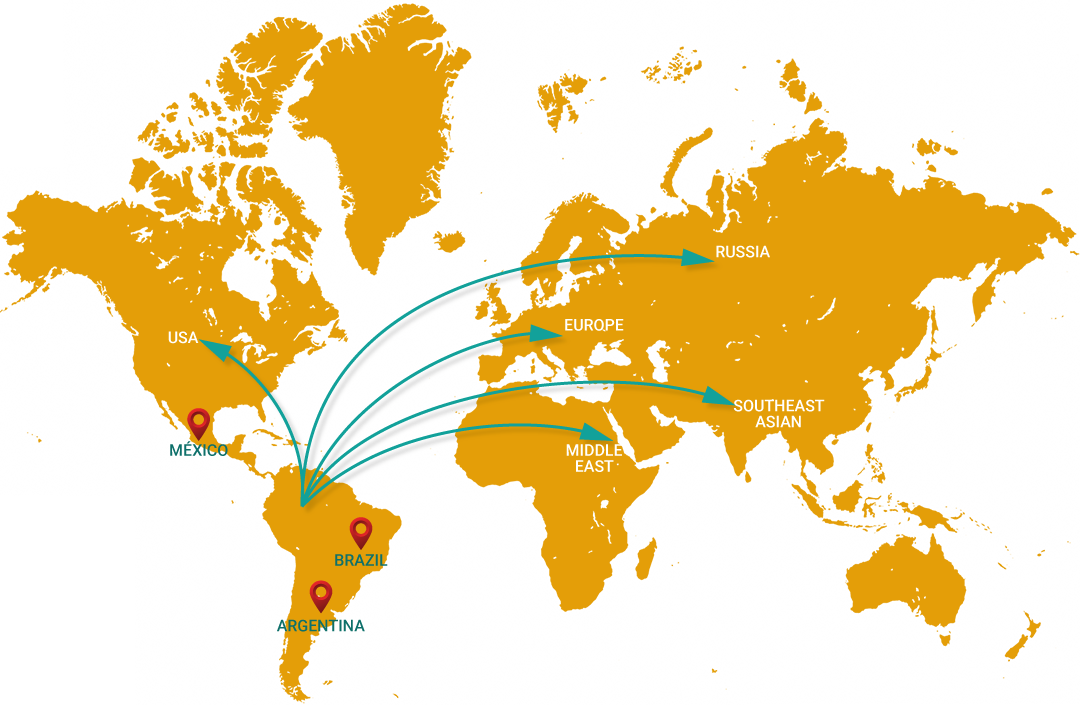 Av. Regimiento de Patricios 1052, Of. 347, C.A.B.A, Argentina